Thank you for your interest in becoming a volunteer for the 2017 LaDainian Tomlinson 5k/1-mile Kids Fun Run presented by EDCO. Volunteers are an essential part of ensuring an exciting and successful race. The LaDainian Tomlinson 5k/1-mile Kids Fun Run offers a wide variety of rewarding opportunities for volunteers. Each volunteer will receive an official event t-shirt and gift bag. Volunteers will also receive refreshments at the Fun Zone upon the conclusion of the race. Volunteer hours will vary depending upon the service which is assigned.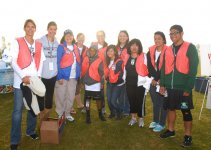 The LaDainian Tomlinson 5k/1-mile Kids Fun Run is full of exciting and diverse opportunities for volunteers. These opportunities are listed below along with their respective responsibilities. Please remember when filling out your volunteer application to list your 1st, 2nd, and 3rd assignment preferences. This will assist us in making sure that as many volunteers as possible can participate in the capacity that they prefer, and help us run a successful event.
CLICK HERE TO REGISTER TO VOLUNTEER
OR
CLICK HERE TO CONTACT THE VOLUNTEER COORDINATOR, ALYSSIA BALDAN
OPPORTUNITIES
Pre-Race Registration
Conduct runner registration and distribute t-shirts, gift bags, safety pins, and race bibs.
Water Station
Manage stations along the course and provide participants with water.
Course Marshal
Monitor course for safety issues and direct participants through the course
Hospitality/Fun Zone
Assist with promotional events and help vendors in the post-race Fun Zone.
Finish Line Water Station/Medal Distributors
Assist with distribution of water or medals to participants at the finish area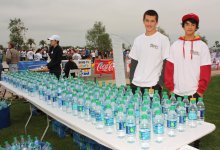 FREQUENTLY ASKED QUESTIONS
Why volunteer for the LaDainian Tomlinson 5k/1-mile Kids Fun Run ?
The LaDainian Tomlinson 5k/1-mile Kids Fun Run benefits the Tomlinson's Touching Lives Foundation which engages in a number of programs designed to promote educational, social and cultural awareness and positive self-esteem to enhance the lives of children, families and communities. The event offers an array of opportunities for volunteers who will benefit a great cause.
What do I receive for volunteering?
Each volunteer will receive:
An official LaDainian Tomlinson 5k event t-shirt
Refreshments at the Fun Zone upon the conclusion of the race
What are the requirements I need to fulfill as a volunteer?
Volunteers must be willing to work the day of the event during the hours for the area you are volunteering for. While experience in running, walking, or cycling events is beneficial, it is certainly not required. Even if you have no experience in racing, we encourage you to come and join us in supporting the Tomlinson's Touching Lives Foundation.
When will I find out what my schedule will be?
Once the registration deadline has passed we will be appointing a committee chairperson to each specific assignment. Your chairperson will inform you (via email or phone) of your event schedule and duties.
When do I receive my official volunteer shirt?
Volunteer shirts will be distributed the morning of the event at the volunteer headquarters. We ask that you please arrive early in order to expedite this process and keep the event running smoothly.
Can I be assigned to volunteer with a friend or family member who is also volunteering?
Volunteers may indicate their preferences to work with their friends or family members on the application. Whenever possible, such special requests will be accommodated. Please make sure to indicate any special requests on the Volunteer Application before sending it in.